ANTI MULLERIAN HORMONE (AMH) test in Mumbai
Mullerian-inhibiting hormone (mih), mullerian inhibiting factor (mif), mullerian-inhibiting substance (mis), egg timer test, infertility .
Now in Rs 1900
> Test type : SERUM Sample Collection at home
> Pre-Test info: Fasting Not Required
> Test Report : Delivered within 12 Hrs
What Is Anti Mullerian Hormone Test?

An AMH blood test is routinely used to measure a woman's potential to produce viable eggs. During her menstrual years, a woman's ovaries can produce hundreds of eggs. A woman's figure drops as she grows older. A woman's blood AMH level can reflect how many viable egg follicles she still has. Ovarian reserve is the term for this. You can get AMH blood test in Mumbai done at Mediyaar.

Anti Mullerian Hormone Price in Mumbai

The approximate cost of Anti-Mullerian Hormone Test varies depending on several criteria, including the city, region, test accessibility, and Lab reputation. AMH bood test price usually ranges from 1600 to 2200 rupees. Mediyaar offers the best cost for Thyrocare's AMH blood test in Mumbai, our popular & convenient home service is available at most of the pin codes in your city. The technician visits your home or office at a date & time slot selected by you.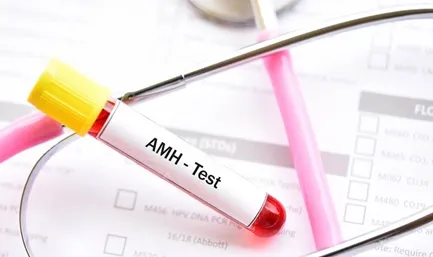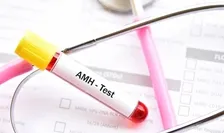 ANTI MULLERIAN HORMONE (AMH) - Additional Info
Test Price : Rs. 1900 ( Tax included )
Fasting Not Required
Sample Type - SERUM
Highly specific
Affordable technique
Fill the booking form
Expert collect sample @ Home
Get report in 24/48 hrs
Serviceable City:Mumbai
ANTI MULLERIAN HORMONE (AMH) test can booked online at a discounted price in Mumbai . ANTI MULLERIAN HORMONE (AMH) blood test in Mumbai is done at fully automated NABL accredited diagnostic laboratory Thyrocare which has Centralized Processing Lab in Mumbai for esoteric tests and Regional Processing Labs in major cities of India. Mumbai being a major city has many professional Labs which can be contacted for ANTI MULLERIAN HORMONE (AMH) . Mediyaar Healthcare in Mumbai provides online facility for booking of ANTI MULLERIAN HORMONE (AMH) where sample can be collected from your home or offce in Mumbai.


Labs in Mumbai offering test similar to ANTI MULLERIAN HORMONE (AMH) (Offline – Lab visit )
---
---
FAQs

When is an AMH test required?

• If you are a female who is having trouble conceiving, you might need an AMH test. The test can help you determine your chances of having a child. High levels could indicate that you have more eggs present and will respond to treatment better. You could have fewer eggs produced and may not respond well to treatment if your AMH levels are low.

How does the AMH blood test work in the body?

• A tiny needle is used to obtain a blood sample from your arm by a healthcare provider. Only a little amount of blood is taken into a test tube or vial once the needle is inserted. When the syringe goes in or out, it may sting a little. It often takes around five minutes to complete the blood test.

Is there any risk associated with this AMH test?

• Having a blood test carries relatively little risk. You might notice some soreness or redness. However, the discomfort goes quickly.

Is it possible to get pregnant if your AMH level is low?

• Yes. Many females with a weak AMH spontaneously become pregnant, though this becomes less frequent when the score drops below "low." AMH levels fluctuate from month to month, and a low level does not rule out the possibility of pregnancy.

Is there any specific reason behind low AMH?

• There could be many reasons behind low Anti Mullerian Hormone. For example, it could be your age, genetic profile or other medical condition.

---
Other Blood test in mumbai
Popular Health Checkup Packages in mumbai