C PEPTIDE test in Surat
Also known as insulin c-peptide, connecting peptide, insulin proinsulin c-peptide , to help evaluate insulin production by the beta cells in the pancreas or to help determine the cause of low blood glucose (hypoglycemia) .
Now in Rs 700
> Test type : Blood (SERUM ) Sample Collection at home
> Pre-Test info: 10-12 Hours Fasting Required
> Test Report : Delivered within 12 Hrs
To discern among both type 1 and type 2 diabetes, the C-peptide test is commonly employed. When you have type 1 diabetes, your pancreas generates a small amount of insulin and C-peptide. Your body releases insulin but doesn't utilize it correctly when you have type 2 diabetes. C-peptide levels may be elevated above normal as a result of this. You can book C-peptide blood test in Surat with us at Mediyaar.

C PEPTIDE Test Price in Surat

The approximate cost of C PEPTIDE Test varies depending on several criteria, including the city, region, test accessibility, and Lab reputation. C-peptide test price in Surat usually ranges from 600 to 1000 rupees. Mediyaar offers the best cost for Thyrocare's c-peptide test in Surat, our popular & convenient home service is available at most of the pin codes in your city. The technician visits your home or office at a date & time slot selected by you .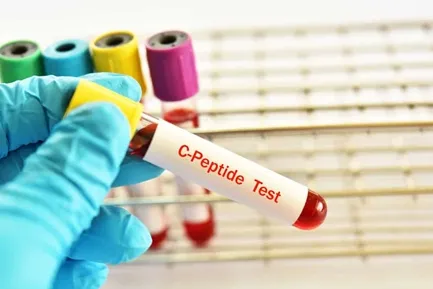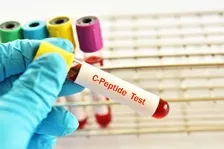 C PEPTIDE Test - Additional Info
Test Price : Rs. 700 ( Tax included )
10-12 Hours Fasting Required
Sample Type - Blood (SERUM )
Highly specific
Affordable technique
Fill the booking form
Expert collect sample @ Home
Get report in 24/48 hrs
Serviceable City:Surat
C PEPTIDE Test test can booked online at a discounted price in Surat . C PEPTIDE Test blood test in Surat is done at fully automated NABL accredited diagnostic laboratory Thyrocare which has Centralized Processing Lab in Mumbai for esoteric tests and Regional Processing Labs in major cities of India. Surat being a major city has many professional Labs which can be contacted for C PEPTIDE Test . Mediyaar Healthcare in Surat provides online facility for booking of C PEPTIDE Test where sample can be collected from your home or offce in Surat.


Labs in Surat offering test similar to C PEPTIDE Test (Offline – Lab visit )
---
---
FAQs

What is the purpose of a C-peptide test?

• If your doctor suspects you have diabetes but isn't sure whether it's type 1 or type 2, you might need a C-peptide test. If you have signs of low blood glucose, you might need a C-peptide test.

During a C-peptide test, what happens?

• A C-peptide blood test is usually administered by blood. A health care expert will collect a blood test from a vein in your arm using a tiny needle during a blood test.

Is there a C-peptide urine test available?

• Urine can also be tested for C-peptide. Your doctor may want you to collect all of the urine you pass in 24 hours. It's known as a 24-hour urine specimen test. Your health care practitioner or a laboratory specialist will supply you with a container to collect your urine in as well as for instructions on how to collect and keep your samples for this test.

Is there anything I can do to prepare for the test?

• Before a C-peptide blood test, you might have to fast for 8–12 hours. Whether your doctor has prescribed a C-peptide urine test, make sure you inquire if there are any special instructions you must follow.

Is there any danger in taking the C-peptide test?

• Having a blood test carries relatively little risk. There may be some discomfort where the needle was inserted. A urine test carries no known dangers.

---
Other Blood test in surat
Popular Health Checkup Packages in surat