FERRITIN test in Pudukottai
A ferritin test helps your doctor understand how much iron your body stores. .
Now in Rs 515
> Test type : SERUM Sample Collection at home
> Pre-Test info: Fasting Not Required
> Test Report : Delivered within 12 Hrs
Ferritin is an intracellular protein which stores iron. It is produced by almost all the living organisms such as algae, bacteria, higher plants and animals. It also acts as a buffer for iron deficiency and excess of iron.

Ferritin test in Pudukottai is usually a part of the panel blood test used to check iron levels in the body through a blood sample taken by a vein. The test will diagnose excess ferritin (hemochromatosis), iron deficiency (anaemia) and liver diseases (excess of ferritin stored in liver). It also diagnoses chronic conditions such as kidney disease, autoimmune disease which might affect iron levels.

A healthcare professional in Pudukottai can prescribe you to undertake a ferritin test if you face extreme tiredness, pale skin, weakness, heavy menstrual cycle, brittle nails or loss of hair, bleeding in digestive tract, blood in stool, whooshing sound in the ears and a sudden spinning sensation also known as vertigo.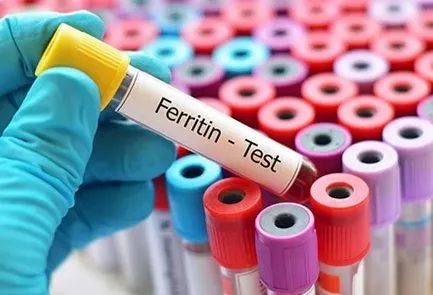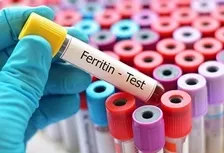 FERRITIN - Additional Info
Test Price : Rs. 515 ( Tax included )
Fasting Not Required
Sample Type - SERUM
Highly specific
Affordable technique
Fill the booking form
Expert collect sample @ Home
Get report in 24/48 hrs
Serviceable City:Pudukottai
FERRITIN test can booked online at a discounted price in Pudukottai . FERRITIN blood test in Pudukottai is done at fully automated NABL accredited diagnostic laboratory Thyrocare which has Centralized Processing Lab in Mumbai for esoteric tests and Regional Processing Labs in major cities of India. Pudukottai being a major city has many professional Labs which can be contacted for FERRITIN . Mediyaar Healthcare in Pudukottai provides online facility for booking of FERRITIN where sample can be collected from your home or offce in Pudukottai.


Labs in Pudukottai offering test similar to FERRITIN (Offline – Lab visit )
---
---
Faqs for ferritin test in Pudukottai

What is the Price for ferritin test in Pudukottai

Ferritin tests are available in all laboratories and pathology labs at different price ranges depending on the location, pincode& reputation of the lab. Mediyaar offers home testing facility in Pudukottai where samples can be picked up from your home at the convenient date and time slot chosen by you online, by filling up the above form.

What are the symptoms of low and high ferritin?

Symptoms of low iron levels may include shortness of breath, dizziness, weakness or fatigue, very low energy levels, dry skin and hair, pale skin increased heartbeat, restless leg syndrome,arrhythmia whereas high levels of iron may include joint pain especially in knees, abdominal belly pain, skin colour might change and look metallic and grey, muscle weakness, unexplainable weight loss, women may have irregular periods and the loss of body hairs.

What are benefits of ferritin test?

Having a healthy iron level is a must for the body but if you face any of the above symptoms then you should definitely get your ferritin checked as excessive and deficient stores of iron can be harmful for your body. Hence, ferritin test is the best way to check the iron and ferritin levels of the body. Ferritin and iron are important to the human body. One should maintain a healthy lifestyle and a healthy diet so that ferritin is nether too low ,nor too high.

What is the procedure for the ferritin test?

For a ferritin blood test to be performed. The healthcare professional may tie a band on your arm so that the veins are more visible and swipe it with an antiseptic swab. After swiping, the professional will insert a needle in your vein and take a blood sample. Blood sample is sent to lab for analysis & the reports are available in n 24 to 48 hrs.

How to book a ferritin test in Pudukottai?

There are two ways to get your ferritin checked in Pudukottai. Either you can visit any laboratory and give your samples or you can book a ferritin test online and get your samples collected at your doorstep.

What does your test result mean?

Test results vary from person to person depending on the age, sex, health history and habits. It may also vary depending on the lab you used. If your results show low levels, then it indicates anemia or iron deficiency. Iron deficiency could be a result of an inadequate diet or even certain medications such as antacids whereas if your results are higher than normal ranges, it may mean you have an autoimmune disease, liver disease or maybe even an infection.

What are normal ferritin ranges?

Following are the normal ranges of ferritin according to age and gender-

• 24 to 336 ng/mL for adult males
• 24 to 307 ng/mL for adult females
• 25 to 200 ng/mL for newborns
• 200 to 600 ng/mL at 1 month old
• 50 to 200 ng/mL at 2 to 5 months old
• 7 to 140 ng/mL for children 6 months to 15 years

Is there any risk of the test?

Having a needle getting inserted could be painful and it may also cause muscle soreness or a bruise. However it will recover on its own after some time.


---
Other Blood test in Pudukottai
Popular Health Checkup Packages in Pudukottai