MAGNESIUM test in Bareilly
This test checks the level of magnesium in the blood which is an important electrolyte needed for proper muscle, nerve, and enzyme function .
Now in Rs 240
> Test type : SERUM Sample Collection at home
> Pre-Test info: Fasting Not Required
> Test Report : Delivered within 12 Hrs
A Magnesium test is a blood test which measures the amount of magnesium in the blood. Even though most of the magnesium present in a body is found in bones and cells, a small amount is present in the blood which can be tested for

Magnesium test in Bareilly checks the level of magnesium in the blood and is generally done when a person shows signs of abnormal magnesium levels or is suffering from a medical condition which increases the chances of having abnormal magnesium levels. A high level of magnesium content is called hypermagnesemia while a low level is called hypomagnesaemia. Irregular levels of magnesium can be an indication of an underlying health condition which mightfurther require treatment from a medical professional in Bareilly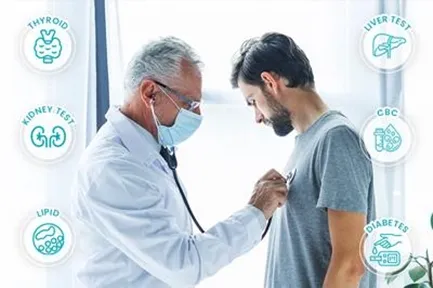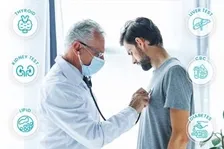 MAGNESIUM - Additional Info
Test Price : Rs. 240 ( Tax included )
Fasting Not Required
Sample Type - SERUM
Highly specific
Affordable technique
Fill the booking form
Expert collect sample @ Home
Get report in 24/48 hrs
Serviceable City:Bareilly
MAGNESIUM test can booked online at a discounted price in Bareilly . MAGNESIUM blood test in Bareilly is done at fully automated NABL accredited diagnostic laboratory Thyrocare which has Centralized Processing Lab in Mumbai for esoteric tests and Regional Processing Labs in major cities of India. Bareilly being a major city has many professional Labs which can be contacted for MAGNESIUM . Mediyaar Healthcare in Bareilly provides online facility for booking of MAGNESIUM where sample can be collected from your home or offce in Bareilly.


Labs in Bareilly offering test similar to MAGNESIUM (Offline – Lab visit )
---
---

Faqs for Magnesium test in bareilly

A person suffering from irregular levels of magnesium can have observable symptoms as both a high or low level of magnesium can make a person sick.

Symptoms of low magnesium level:

• Loss of appetite
• Nausea
• Weakness
• Sleepiness
• Confusion
• Muscle cramps/twitching
• Irregular heartbeat

Symptoms of high magnesium level:

• Fatigue
• Muscle weakness
• Nausea/vomiting
• Breathing problems
• Cardiovascular problems (cardiac arrest in severe cases)

Magnesium deficiency in pregnant women can lead to a severe form of high blood pressure called preeclampsia.

Insufficient levels of magnesium for extended periods of time can lead to magnesium deficiency which can cause weakened bones, low levels of calcium and potassium, headaches and heart problems. The leading causes of low magnesium levels include kidney problems, celiac disease, malnutrition and diabetes. Alcoholism can also lead to the inability to absorb magnesium from food.

How is a Magnesium test performed?

A magnesium blood test is generally in the form of a blood test where a blood sample is taken and then tested in a laboratory. Since it is a general blood test, a person does not have any restrictions when it comes to eating or drinking before the test. However, certain medications can affect the results of the test and hence, any prescription or over-the-counter medicines should be disclosed before the start of the test. Magnesium supplements should also be stopped before the test as it can alter the level of magnesium in the blood.

During the test, a healthcare professional will first clean the skin around the area from where the blood is drawn from. An elastic band is then administered in order to get the veins swell with blood. The blood is then drawn from a vein around the inside of the elbow by inserting a needle into the vein. The blood is collected in a test tube and the needle is removed from the arm. A small pricking sensation can be felt when the needle is administered and then withdrawn. The procedure only takes a few minutes to complete, upon which, the samples are sent to the lab for testing.

What do the results mean?

Since testing is done by machines, results may take upto a day to be available.

A normal result will typically show a magnesium level of 1.7-2.2 mg/dL or 0.85-1.10 mmol/L with different laboratories having slight variations due to their measuring techniques.An abnormal level of magnesium can be a sign of health problems which might require diagnosis.

Low levels of magnesium can be due to:

• Alcoholism
• Kidney disease
• Chronic diarrhea
• Digestive disorder (Crohn's disease)
• Hyperaldosteronism (high aldosterone level)
• Diabetes
• Hypercalcemia (high level of calcium in blood)
• Pancreatitis (inflammation of the pancreas)
• Intake of certain medicines (amphotericin, calcineurin inhibitors)
• Ulcerative colitis (inflammation of the large intestine or rectum)

High levels of magnesium can be due to:

• Adrenal insufficiency (Addison disease where glands done produce enough hormones)
• Diabetic ketoacidosis (fata l complication of diabetes)
• Dehydration
• Kidney disease (acute or chronic renal failure)
• Milk alkali syndrome (high level of calcium in body)
• Intake of certain substances (lithium, over dosing of antacids or laxatives containing magnesium)

Low levels of magnesium can be treated with magnesium supplements which work by raising the level of magnesium in the blood. High levels of magnesium can be treated by IV therapies which draw out excess magnesium directly from the veins.

Are there any risks to the test?

A magnesium test is typically a regular procedure with minimal risk with some people feeling lightheaded after the test, which is a common after effect of having blood drawn from the body, and having a small bruise around puncture area which typically subsides after a few days. People with fear of needles or those who suffer from anxiety can engage in relaxing techniques such as listening to music or breathing exercises during the procedure. Since veins vary in size from person to person, retrieving blood samples from one person might be more difficult when compared to another and some people can be exposed to risks such as excessive bleeding, hematoma (accumulation of blood under skin) or an infection which can be treated through medication.

What is the price of a Magnesium test in bareilly?

A magnesium blood test can cost may vary depending on location , reputation of the lab and type of package. The best price for a magnesium blood test in bareilly is offered by mediyaar which facilitates home service at a affordable price.

Where can I take a Magnesium test in Delhi?

Majority of diagnostic centers provides magnesium test in bareilly .you can also choose a hassle free test at home service by mediyaar, where a technician will visit you place at the date & time opted by you while filling up the above form.

What is the recommend dose of magnesium?

The recommended optimum everyday magnesium intake amount for an adult woman is between 310-360 mg depending on their age and pregnancy status while the recommended intake amount for an adult man is about 400-420 mg depending on their age. For kids, the recommended intake amount is anywhere from 30-410 mg depending on their age and gender.

What is the consumption source of magnesium?

Magnesium is present in both natural and processes foods which include milk, yogurt, cashew nuts, almonds, spinach, and processed breakfast cereal among others. A healthy amount of magnesium in a body has various benefits which include good bone health as high bone density is linked to optimum magnesium intake. It reduces the risk of irregular heartbeat or a heart disease as the heart requires magnesium in order to pump blood.Magnesium also helps in the regulation of insulin and glucose, reducing the chance of developing diabetes.


---
Other Blood test in bareilly
Popular Health Checkup Packages in bareilly