THYROID STIMULATING HORMONE (TSH) test in Mattannur
A tsh test is done to identify if your thyroid gland is working the right way. it can tell you if it's overactive (hyperthyroidism) or underactive. .
Now in Rs 200
> Test type : SERUM Sample Collection at home
> Pre-Test info: Fasting Not Required
> Test Report : Delivered within 12 Hrs
Thyroid-stimulating hormones (TSH Test) are used to diagnose hypothyroidism and to follow thyroid hormone levels over time. These blood tests measure the amount of TSH in your blood and compare it to the normal range. If your level is higher than normal, you may have low thyroid function, or you may have hyperthyroidism in case of low levels.

TSH tests in Mattannur is performed most often by a doctor when symptoms of hypothyroidism develop, such as fatigue and weight gain. If you suspect that you have hyperthyroidism (an overactive thyroid), you will likely start with a blood test called thyroxine measurement. If this blood test result is high, then a thyroid-stimulating hormone test will be ordered next. A low level of TSH indicates that the thyroid tissue may be underactive while high levels indicate that the thyroid tissue may be overactive.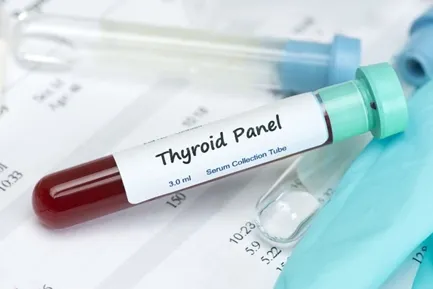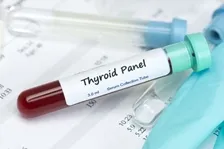 THYROID STIMULATING HORMONE (TSH) - Additional Info
Test Price : Rs. 200 ( Tax included )
Fasting Not Required
Sample Type - SERUM
Highly specific
Affordable technique
Fill the booking form
Expert collect sample @ Home
Get report in 24/48 hrs
Serviceable City:Mattannur
THYROID STIMULATING HORMONE (TSH) test can booked online at a discounted price in Mattannur . THYROID STIMULATING HORMONE (TSH) blood test in Mattannur is done at fully automated NABL accredited diagnostic laboratory Thyrocare which has Centralized Processing Lab in Mumbai for esoteric tests and Regional Processing Labs in major cities of India. Mattannur being a major city has many professional Labs which can be contacted for THYROID STIMULATING HORMONE (TSH) . Mediyaar Healthcare in Mattannur provides online facility for booking of THYROID STIMULATING HORMONE (TSH) where sample can be collected from your home or offce in Mattannur.


Labs in Mattannur offering test similar to THYROID STIMULATING HORMONE (TSH) (Offline – Lab visit )
---
---

FAQs for TSH Blood test in Mattannur

What is the price of TSH Blood Test in Mattannur?

The TSH blood test price varies depending on the clinic or lab you choose to go to in Mattannur. The discounted cost of the blood test on Mediyaar is mentioned at top of the page, this could be higher if you live in a rural area with limited options for testing, or if you have special circumstances that require testing at home it will cost around additional ?200 per person and you'll get the report in 24/48 hrs.

What are the symptoms & causes of Thyroid Stimulating Hormone?


The primary symptoms of thyroid stimulus hormone are as follows:

• Beginning to feel Fatigue
• Cold
• Constipation in the body
• Skin becomes drier and less moist
• Gaining weight
• Face puffiness
• Dry cough
• Muscle fatigue

Why to take Thyroid Stimulating Hormone Test?

Although there is no specific reason to get a test, it is considered a good idea if you are unsure of your thyroid function. The test allows a doctor to measure how well your thyroid gland is working and to check whether you have an overactive or underactive thyroid. Your doctor in Mattannur may also recommend testing if you: have low mood, anxiety, or depression Additionally, anyone who has experienced changes in weight or physical appearance should consider having a test done. These changes could indicate that you have an underactive thyroid, which is more common in women than men. When this happens, your body can't produce enough hormones which can result in symptoms such as dry hair and skin, poor circulation, and fatigue.

What are the benefits of Thyroid Stimulating Hormone Test?

The thyroid is an essential organ in the body responsible for regulating metabolism. It plays a role in converting food into energy and controlling body temperature.

In addition to helping regulate metabolism, the thyroid also plays a role in regulating metabolism. Many diseases, such as diabetes and obesity, can be traced back to a malfunctioning thyroid. The test measures the amount of circulating thyroid hormone in your blood. By knowing your levels, doctors can more accurately monitor how well your thyroid is functioning.

What is the use of the Thyroid Stimulating Hormone (TSH) Test?

Thyroid-stimulating hormone tests are used to measure the levels of thyroid hormones in the blood. Thyroid hormones control a range of processes in the body, including how much energy we have and how our bodies store and use nutrients. Understanding how your thyroid hormones are working can help you identify any problems, such as an underactive thyroid gland (hypothyroidism) or an overactive thyroid gland (hyperthyroidism). By checking your levels, you can receive a diagnosis for any problems with your thyroid gland, which will allow you to start treatment as soon as possible.

What is the procedure for the test?

TSH levels can be measured with a blood test. A little needle will be used by the doctor to draw blood from a vein in the arm. After the syringe is placed, a tiny blood sample will be taken into a test tube, and you will receive your report in 28/48 hours.

How to book TSH in Mattannur?

You can visit any renowned pathology lab in Mattannur and get your test done, Or you can order the test online on Mediyaar by simply filling up the form by entering your details, our fully skilled, qualified, and licensed staff will arrive at your home within a few hours or at a time you select.

How do you prepare for the Test?

A TSH blood testing involves no specific procedure. If your doctor has ordered further blood tests, then may be required to fast (neither food nor drinks) for the last several hours before taking the test. It is advisable to schedule your thyroid function tests early in the morning.

What is the normal TSH level?

A normal level is less than 1.0 mU/L, while a high level is more than 5.0 mU/L. The test measures the concentration of TSH in your blood serum. The test performed in clinical practice is usually done as part of a full thyroid function panel in which serum goes along with free T4, free T3, total thyroxine (T4), total triiodothyronine (T3), and reverse T3 measurements. Because the levels are so low, they can be difficult to measure accurately and interpret correctly.

The test measures the amount of TSH in a blood sample. A low level indicates that there may be a problem with your thyroid gland and that it may need to be treated with medication or surgery. A high level means that you may have an overactive thyroid.

Who needs to take a this test?

if you feel you see an underactive or hyperactive thyroid gland. Excess thyroid hormones in the blood are referred to as hyperthyroidism, while low thyroid hormones may require a TSH test.

What happens if levels are high?

TSH levels can be elevated if there is an overactive thyroid or inflammation in the body. Elevated levels are usually an indication of some kind of thyroid disease, although they may also be caused by conditions such as autoimmune thyroiditis, pituitary tumors, or pregnancy.

---
Other Blood test in Mattannur
Popular Health Checkup Packages in Mattannur