VITAMIN B-12 test in Nagpur
Also known as cobalamin folic acid , rbc folate , vitamin b12 folate cobalamin .
Now in Rs 840
> Test type : SERUM Sample Collection at home
> Pre-Test info: Fasting Not Required
> Test Report : Delivered within 12 Hrs
Vitamin B-12 Test is a normal go-to-doctor blood test. You do not need to prepare yourself prior to the blood test. No fasting or dietary precautions are to be taken, however, you should disclose to your doctor in Nagpur about any prescribed drugs and dietary supplements you are using as they might influence the results.

The B vitamins are nutrients that the body needs in small amounts for metabolism, power production for cells, skin, bone, muscle mass, body organs as well as nervous system health. Vitamin B12 Test in Nagpur measures some of these details substances in the blood to help review an individual's dietary status.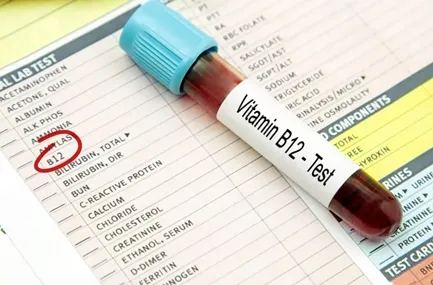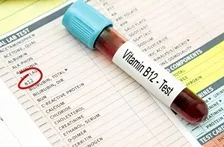 VITAMIN B-12 - Additional Info
Test Price : Rs. 840 ( Tax included )
Fasting Not Required
Sample Type - SERUM
Highly specific
Affordable technique
Fill the booking form
Expert collect sample @ Home
Get report in 24/48 hrs
Serviceable City:Nagpur
VITAMIN B-12 test can booked online at a discounted price in Nagpur . VITAMIN B-12 blood test in Nagpur is done at fully automated NABL accredited diagnostic laboratory Thyrocare which has Centralized Processing Lab in Mumbai for esoteric tests and Regional Processing Labs in major cities of India. Nagpur being a major city has many professional Labs which can be contacted for VITAMIN B-12 . Mediyaar Healthcare in Nagpur provides online facility for booking of VITAMIN B-12 where sample can be collected from your home or offce in Nagpur.


Labs in Nagpur offering test similar to VITAMIN B-12 (Offline – Lab visit )
---
---

Major causes of vitamin B-12 deficiency

• If a person possesses one or more of the risk factors listed below, they are more prone to vitamin B-12 deficiency:

• Improper diet or Vegetarian Diet: B-12 deficiency is most commonly caused due to improper diet or malnourishment. Several people believe that a hefty vegetarian diet provides all the important nutrients to the body. However, a strict vegetarian diet may lead to B-12 deficiency.

• Inability to absorb vitamin B-12: Additionally, there might be instances when even with adequate intake; the body might not be able to absorb vitamin B-12.

• Alcohol consumption: Even if you are obtaining enough vitamin B-12 from your diet, chronic alcohol use can lead to nutritional deficits. This is brought on by changes in the body's metabolism that make it challenging for vitamin B-12 and other nutrients to be absorbed.

• Stomach disorders or surgery: While medical disorders and illnesses that affect the function of the small intestine or the stomach's ability to absorb nutrients can also cause B-12 deficiency.

• Insufficient stomach acid: Lack of stomach acid is a considerably more frequent cause of vitamin B-12 deficiency, especially in elderly adults. This is because stomach acid is required to release vitamin B-12 from meals.

Vitamin B12 deficiency,

It is additionally referred to as cobalamin deficiency, a clinical condition in which the blood and tissues have a less-than-normal level of vitamin B12. Symptoms can differ from none to severe. Mild deficiency may have few or missing symptoms.

Below are the symptoms of modest deficiency.

• Feeling tired
• Anemia
• Soreness of the tongue
• Mouth abscess/ulcers
• Shortness of breath
• Feeling faint
• Fast heartbeat
• Low blood pressure
• Pallor loss of hair
• Lowered capacity to believe and extreme joint discomfort
• Beginning of neurological symptoms,
• Consisting of abnormal feelings such as pins and needles
• Tingling and tinnitus.

Severe deficiency might include symptoms of

• Minimized heart function in addition to much more serious neurological symptoms,
• Consisting of adjustments in reflexes
• Bad muscle mass function
• Memory troubles
• Blurred vision
• Irritation
• Ataxia
• Lowered preference and odor
• Lowered level of consciousness
• Anxiety and psychosis

FAQs for Vitamin B12 test in nagpur

What are the consequences of a persistent B12 deficiency?

• If left without treatment, a chronic deficiency of vitamin B12 can cause neurological and psychiatric issues. It can likewise hinder nerve signaling and also result in muscular tissue weakness.

How can I inform if I lack B12?

• The only means to actually identify whether you're obtaining enough vitamin B12 is to ask your physician for a blood examination. Signs of a B12 deficiency tend to be unclear, so most people don't realize they are at risk of B12 deficiency. A few crucial symptoms that could hint you in: muscle mass weakness and also exhaustion, anxiety, irritability, weight reduction and decreased cravings.

Who should go for a Vitamin B 12 test?

• Any person who has a bowel problem, chronic health disease, or who prevents consuming animal products must be evaluated. Likewise, individuals over age 40 ought to additionally obtain examined. If you're struggling with weakness in your body, tiredness, depression or you just feel exhausted, it is very important to rule out a B12 deficiency while exploring other possible reasons for these symptoms.

How to book Vitamin B-12 Test in nagpur?

• You can book vitamin B-12 test in nagpur from any medical center or pathology lab near you. Mediyaar.com offers Vitamin B-12 blood Tests online where appointments can be scheduled at your convenience and blood sample can be collected at home. The vitamin B-12 blood test in nagpur can also be done in a form of a package that includes other blood tests that your doctor has prescribed to examine your levels of glucose, cholesterol, or any other health markers.

What is the normal Vitamin B-12 level?

• The Harvard Medical School recommends 2.4 micrograms (mcg) of vitamin B-12 per day for men and women older than 14 years old. While the dosage rises to 2.6 mcg and 2.8 mcg daily for expectant and nursing women, respectively.

Should I take a vitamin B12 supplement?

• It is not suggested to begin any supplement without contacting your doctor or nutritionist. Taking excessive quantities of vitamin B12 can create other health problems. It is recommended to consult a certified physician before starting any supplements.

What is the procedure for Vitamin B-12 Test in nagpur?

• For the procedure, the technician will use an antiseptic wipe to clean a tiny portion of your elbow or arm. In order to improve the flow of blood, they could wrap an elastic band around the top of your arm. The needle will then be inserted into a vein by your healthcare professional to draw blood.

• Your healthcare provider in nagpur will take out the needle and put on a bandage once they have drawn enough blood. The lab in nagpur will analyze your blood sample to check for vitamin B-12 levels.

What is the price of Vitamin B12 test in nagpur?

• You can book a Vitamin B-12 Blood Test at home in nagpur on mediyaar.com, The test is reasonably priced and enables you to access the Vitamin B-12 blood Test online from the comfort of your home. Mediyaar offers discounts of up to 60% on all blood tests booked online through the portal.

What is the use of the Vitamin B-12 Test?

• The vitamin B-12 deficiency test indicates adequate levels of the red blood cells and the functioning of the brain and nervous system. You don't need to change anything other than keeping up with your balanced diet if your vitamin B-12 test reveals that your levels are healthy.

• However, in case of a deficiency, fish, meat, dairy products, and other foods fortified with B-12, such as cereal and milk are sources of vitamin B-12.

What if Vitamin B-12 is low?

• A Low vitamin B-12 can result in several physical and physiological problems for the human body.

• Heart: According to studies, vitamin B-12 lowers the blood homocysteine levels that may result in heart diseases. Medical experts have also found that people with increased homocysteine levels are more likely to suffer a heart attack or a stroke.

• Brain: Research has also proven that B-12 deficiency also affects memory. Further, affecting the nervous system can cause vision problems, pins and needles (paraesthesia), mood disorders, attention deficit, mental status and cognitive changes, memory impairment, behavioral abnormalities, and so on. Studies have also indicated a correlation between epilepsy and vitamin B-12 deficiency.

• Skin: Skin problems such as Vitiligo, vitiligo-like symptoms, hyper-pigmented skin, balding, and other issues are also caused by vitamin B-12 deficiency.

---
Popular Health Checkup Packages in nagpur